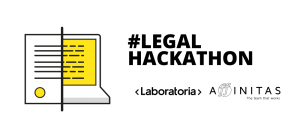 Legal Hackathon is a LegalTech experience aimed at in-house legal teams of companies in Chile, Colombia, Mexico and Peru. The entirely virtual event will take place from 23 to 27 November 2020 and consist of five days of online collaboration, in which graduates of Laboratoria in Chile, Colombia, Mexico and Peru will develop technology solutions for legal challenges of participating companies from the four countries involved.
The legal sector is undergoing unprecedented changes, which have intensified by the social and economic effects of the Covid-19 pandemic. Today, digital transformation strategies have become key to enhance client value and offer truly client-centered legal services.
Our regional Legal Hackathon is an experience that aims to strengthen such competences of legal teams through the development of digital products focused on the needs and client experience of their internal clients and the improvement of their legal department's efficiency.
In this digital marathon, in-house legal managers will discuss some of the challenges they are facing, and with the mentoring of Laboratoria and lawyers from Barros & Errázuriz (Chile), Gómez-Pinzón (Colombia), Mijares, Angoitia, Cortés y Fuentes (Mexico) and Miranda & Amado (Peru), they will create innovative products aligned with the strategic objectives of each company to thrive in the digital era. After the event, these managers take a MVP (minimum viable product) back to their respective companies. At the end of the event, Affinitas will be hosting an award ceremony where the two best projects will be selected and celebrated.
Juan Luis Avendaño, current chair of Affinitas, explains: "This Legal Hackathon is unique. It combines the strategic agenda of leading companies, the talent of Laboratoria's digital experts, and the legal expertise of the participating in-house teams and our member firms. Innovation and digital transformation have become a shared priority among our member firms, and we are delighted to contribute to the positive change this project will generate."
Regarding the need to consolidate a digital economy that generates opportunities in the region, María Paula Rivarola, Regional Business Director of Laboratoria, comments: "This revolution involves all sectors; technology has disruptive potential in everything we do. But it is people who have the real capacity to innovate and leverage new digital tools to their advantage. With this Legal Hackathon, Laboratoria and Affinitas will build bridges between the legal talent in the region and Laboratoria's web developers and user experience designers. We know the results will be amazing!"
Learn more about the event and follow the award ceremony live at: https: https://talento.laboratoria.la/legal-hackathon
About Laboratoria
Laboratoria is an organization that encourages people to develop their skills to work and grow in the digital age. We do this because in an era where technology is gaining prominence, we believe that human potential is our best resource. We promote diversity and the inclusion of talent in the digital economy and we do it through learning programs that develop the skills needed for today's and tomorrow's jobs.
We currently have two flagship programs: A «Bootcamp» for women that seeks to respond to the lack of female talent in the technology sector, opening up opportunities for more women to pursue a career in technology and improve their future. A «Corporate Training» program, which seeks to respond to the need to retrain business leaders and collaborators so that the transformation of their organization in the digital era, driven by trained talent and a culture of continuous learning, really happens.
We are a proudly Latin American organization, for now with students in Peru, Mexico, Chile, Brazil and Colombia and clients in many more countries. More than 8000 students have taken our programs and more than 600 companies have trusted Laboratories to hire Bootcamp graduates or train their own talent with our Corporate Training programs.