The end of 2019 also meant the end of Patricio Rivas' secondment program in Colombia, and the end to a great professional and personal adventure that had started 6 months earlier.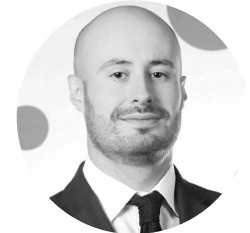 Patricio got interested in Affinitas' secondment program after hearing about the experience of one of his fellow associates at Affinitas' member firm in Mexico, Mijares, Angoitia, Cortés y Fuentes. He made his interest known to the Partner in his practice group and found himself soon on his way to Gómez-Pinzon Abogados in Colombia.
Patricio worked alongside Victor Ayalde, Camilo Romero, Paula de la Calle and Santiago Blanco in the Antitrust team of the Firm.
Reflecting on his experience, Patricio shares some professional and personal highlights:
"I left Mexico City on the 2nd of July to work for a period of 6 months in the Intellectual Property and Competition practice of the Firm headed by Partner Mauricio Jaramillo. It was such a great experience to work in a completely different environment, it really changed my perspective on a lot of things".
"Basically, I was involved in similar work than what I was used to at Mijares: merger control proceedings and investigations by Colombia's competition authority, the Superintendence of Industry and Commerce (SIC). The substance of the work was actually quite similar. The most relevant differences that I found, were the different are the time frames and thresholds for notifiable transactions. It was really very rewarding to see corporate behavior and business transactions through this different perspective. I think it has enriched my approach to antitrust law, and will no doubt help me throughout my career".
"On a personal level, I could not be more grateful to my new friends in Colombia. I met so many new people and travelled to fantastic places – I greatly recommend Cartagena, such a wonderful city."
"During my time at Gómez-Pinzon I participated actively in the many social and corporate events that are being organized. I had the opportunity for instance to speak at the breakfast meeting of the M&A practice on non-compete clauses and other restrictive covenants that apply in M&A transactions."
"One of my personal highlights was participating in the 2019 edition of Rock & Law, a musical 'Battle of the Bands' event, celebrating Pro Bono activities of law firms in Colombia. I played the guitar in our band for the occasion 'No Hay Derecho' – really great fun!
"Another stand-out event was Gomez-Pinzón's own version of "Shark Tank" – a competition to stimulate innovation and creativity in the Firm. The event took place in September, when 5 different teams presented their innovation projects before the jury. It was great to see how two projects got actual funding to implement their proposals. It was a really fresh way to engage lawyers and business professionals in the Firm."
"But in the end, it will be the human connections that will stay with me the longest. Building these international friendships is an ideal way to bring our firms closer and build an integrated platform to service international clients and cross border projects."
Affinitas' international secondment program, which was founded in 2004 and formalized 10 years later, offers young lawyers a unique opportunity to spend a number of months working in one of the other member firms, gaining both personal and professional experiences of a lifetime in the process. Selected lawyers have 5-6 years of professional experience, demonstrate outstanding professionalism, and an advanced level of English.
For more information on Affinitas' Secondment Program, please contact Ms. Milagros García mgarcia@affinitaslegal.com.