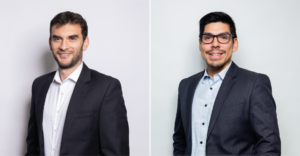 Peruvian member firm Miranda & Amado announced the appointment of two new partners. Carlos Glave was promoted from the Litigation and Arbitration practice area, while Alberto Ventura stepped up from the Projects, Natural Resources and Infrastructure practices, in order to consolidate the full-service value proposition offered to our clients.
Their appointments will become effective as of January 1, 2023.
"We are very happy for Carlos and Alberto, who have proven to be excellent professionals and the best of people, and we are sure that, from their new role as partners, they will continue to consolidate their leadership within Miranda & Amado and in the daily work with our clients. This decision affirms our commitment to continue nurturing young talent as part of our culture and strategic objectives", said Mauricio Raffo and Luis Miranda, Managing Partners of our Peruvian member firm.
With this appointments, Miranda & Amado reaffirms its commitment to young talent, a fundamental pillar of its culture. At the same time, it confirms our commitment to offer top-notch comprehensive advice to clients, drive by knowledge, professionalism and experience.
Carlos Glave
Carlos' practice focuses on the resolution of disputes related to public law issues in both constitutional or administrative litigation and arbitration proceedings, which are currently the most relevant type of proceedings involving private companies in their relationship with the State.
Alberto Ventura
Alberto has extensive experience in providing legal advice to companies involved in mining, energy, agricultural and infrastructure projects in general, related to various environmental issues, such as protected natural areas, water resources and procedures to obtain licenses, authorizations and permits with different government agencies.